On Sale Now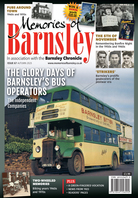 Some of the articles in
Issue 67 - AUTUMN 2023
Barnsley bus operators – the independent companies
Strikers – Barnsley's postwar goalscorers
Remembering bonfire night – 1950s and 60s
A green-fingered vocation
News from 1923
Unsung heroes of Middlecliffe
Mary Gertrude Spencer Stanhope
Motorbike shops around town
Postage and Packing
UK postage and packing for back issues costs £1.35 per issue, but is free when you buy five or more issues together, and there's no postage and packing charge for online issues.
UK postage and packing is also free for pre-paid subscriptions.
International postage and packing prices are as follow...
Airmail
Back issues
£5.00 + £1.00 per additional copy
Pre-paid subscriptions
£31.00 per subscription
Please see the
Back Issues
and
Subscribe
pages to buy issues of Memories of Barnsley.
Shopping Cart
Your shopping cart is empty