On Sale Now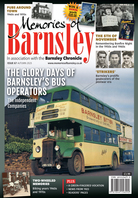 Some of the articles in
Issue 67 - AUTUMN 2023
Barnsley bus operators – the independent companies
Strikers – Barnsley's postwar goalscorers
Remembering bonfire night – 1950s and 60s
A green-fingered vocation
News from 1923
Unsung heroes of Middlecliffe
Mary Gertrude Spencer Stanhope
Motorbike shops around town
Contribute
Memories of Barnsley
covers a wide range of subject areas about Barnsley and its surrounding villages, going back over the decades. Readers are invited to contribute their own stories, queries, memories and photographs for publication within the magazine.
If you have a story to tell or a photograph to share, it is as simple as sending an email! Just email
editor@whmagazines.co.uk
with your contribution, or with any questions or suggestions you might have, and we will get back to you. If you have have an idea for an article but feel unsure about how to proceed, email a brief outline and we will discuss how to take it further.
If you have photographs you would like to send for inclusion in the magazine, email them as an attachment (if you get stuck, let us know and we will try to help). We would like to include these as part of our new online photograph
Gallery
too, so please let us know if you would rather not see your photos featured on the website.
Of course, you can still send your contributions in by post if you prefer; see the
Contact Us
page for the postal address.
Shopping Cart
Your shopping cart is empty