On Sale Now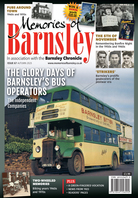 Some of the articles in
Issue 67 - AUTUMN 2023
Barnsley bus operators – the independent companies
Strikers – Barnsley's postwar goalscorers
Remembering bonfire night – 1950s and 60s
A green-fingered vocation
News from 1923
Unsung heroes of Middlecliffe
Mary Gertrude Spencer Stanhope
Motorbike shops around town
Paying with PayPal
When you buy issues of Memories of Barnsley online, the last stage of the process is checking out and paying with PayPal, at which point you'll be redirected to their secure payment page.
Paying with PayPal is quick and easy. If you already have a PayPal account simply login and pay as normal. If you don't have an account, you can either sign up for one or, if you prefer, skip signing up and just pay with your credit or debit card as you would on any other online shopping website.
Once your payment is complete you'll be redirected back to our website where you can review details of your order.
If you'd like further details about PayPal or would like to sign up for an account now then please click on the PayPal link below to visit their website. Signing up is free and only takes a few minutes, and PayPal is now a commonly accepted payment method on many ecommerce websites around the world.

Shopping Cart
Your shopping cart is empty