On Sale Now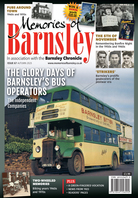 Some of the articles in
Issue 67 - AUTUMN 2023
Barnsley bus operators – the independent companies
Strikers – Barnsley's postwar goalscorers
Remembering bonfire night – 1950s and 60s
A green-fingered vocation
News from 1923
Unsung heroes of Middlecliffe
Mary Gertrude Spencer Stanhope
Motorbike shops around town
About Us
Memories of Barnsley magazine is published by Wharncliffe History Magazines, a branch of Script Media Group Ltd - a leading independent publisher of specialist trade magazines, books and consumer magazines based in Barnsley, South Yorkshire. Part of the Acredula Group, Script Media Group publishes market leading products in niche markets across the UK and Ireland.
Script Media Group publishes a number of specialist consumer titles that are available to purchase by subscription or through the newstrade.
Script Media is also associated with
Pen and Sword Books
' Wharncliffe imprint; one of the foremost local history imprints in the UK. Titles available from Wharncliffe Books include the 'Aspects' series, the 'Foul Deeds' series and a number of titles about Barnsley's sporting and industrial history.
Shopping Cart
Your shopping cart is empty