On Sale Now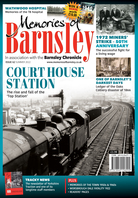 Some of the articles in
Issue 62 - SUMMER 2022
Court House Station (Revisited)
1972 Miners' Strike - 50th Anniversary
Gem from the Archives - Oaks Colliery Disaster ledger 1866
News from 1922
Memories of town in the 1950s and 60s
Tracky News
TB hospital in Wath-Upon-Dearne
Girl Fridays 1977


Issue 7 - Autumn 2008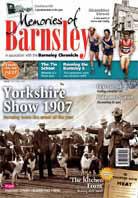 Price: £2.50
Some of the articles in this issue...
Running the Barnsley Six road race
The Yorkshire Show 1907
The history of Shambles Street
Changing face of Cudworth
Barnsley from the Air 1938 - Shambles Street
Demolition of the final Rylands chimney in Stairfoot
Staincross railway station
Rationing during WW2
Memories of the Tin School
Test driving cars in the 1950s
Use the Add to Cart button to add a copy of this issue to your shopping cart. You can find every issue on the
Back Issues
page.
When you're done, simply checkout and pay securely with PayPal. You don't even need a PayPal account!
Alternatively, you can order back issues by telephoning us on 01226 734779 (Monday to Thursday 8.30am to 5.30pm, Friday 9am to 4pm).
UK postage and packing costs £1.00 per back issue, or is free when you order four or more issues together. Click
here
for international postage rates.
Shopping Cart
Your shopping cart is empty