On Sale Now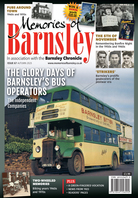 Some of the articles in
Issue 67 - AUTUMN 2023
Barnsley bus operators – the independent companies
Strikers – Barnsley's postwar goalscorers
Remembering bonfire night – 1950s and 60s
A green-fingered vocation
News from 1923
Unsung heroes of Middlecliffe
Mary Gertrude Spencer Stanhope
Motorbike shops around town


Issue 17 - Spring 2011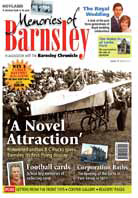 Price: £3.00
Some of the articles in this issue...
An aviation spectacle in Barnsley - 1913
Royal wedding celebrations special
The life of Samuel Joshua Cooper
Childhood memories: collecting football cards
The Stainborough Hotel golf course
The history of the Barnsley Baths - part 1
Letters from the Front Line - 1915
Changing face of Hoyland/Hoyland Common
The history of Locke Park and its relics
From the Barnsley Chronicle, 1874 - a crash at Townend
Use the Add to Cart button to add a copy of this issue to your shopping cart. You can find every issue on the
Back Issues
page.
When you're done, simply checkout and pay securely with PayPal. You don't even need a PayPal account!
Alternatively, you can order back issues by telephoning us on 01226 734734 (Monday to Thursday 9am to 5pm, Friday 9am to 4pm).
UK postage and packing costs £1.35 per back issue, or is free when you order five or more issues together. Click
here
for international postage rates.
Shopping Cart
Your shopping cart is empty