On Sale Now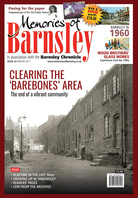 Some of the articles in
Issue 44 - WINTER 2017
The Barebones
Wood Brothers' Glass Company
Playtime in the late 1940s
Posing for the paper
Remembering the year 1960
Growing up in Tankersley
Girl Fridays 1974
Gem from the Archives
Privacy Policy
At Script Media, we are committed to protecting your privacy. Please note that, whilst you will need to enter some personal details to register on this website, we will only use the information that we collect about you lawfully (in accordance with the Data Protection Act 1998). We will not pass on your personal details to third parties.
The information that we store includes...
Your name
Your email address
This information is necessary to enable us to personalise correspondance and acts as a 'signing in key' to allow you to place orders with us or comment on any of the photographs in our Gallery. We will endeavour to keep our records up to date and as accurate as possible. Please inform us of any inaccuracies so that we can delete or correct them.
Shopping Cart
Your shopping cart is empty