On Sale Now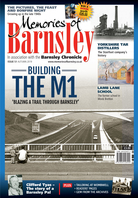 Some of the articles in
Issue 51 - AUTUMN ISSUE 2019
Blazing a trail through Barnsley – M1
Yorkshire Tar Distillers
Clifford Tyas – Barnsley Pal
Lamb Lane School Days
Ordnance Survey Albums
Life in the late 1940s
Tailoring at Wombwell
Girl Friday 1975
Postage and Packing
UK postage and packing for back issues costs £1.00 per issue, but is free when you buy four or more issues together, and there's no postage and packing charge for online issues.
UK postage and packing is also free for pre-paid subscriptions.
International postage and packing prices are as follow...
Airmail
World Surface
Back issues (per copy)
£3.00
£2.00
Pre-paid subscriptions (per subscription)
£31.00
£31.00
Please see the
Back Issues
and
Subscribe
pages to buy issues of Memories of Barnsley.
Shopping Cart
Your shopping cart is empty