On Sale Now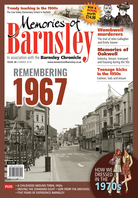 Some of the articles in
Issue 46 - SUMMER 2018 ISSUE
Remembering 1967
Memories of Oakwell
Death by hanging
Trendy teaching in 1900s Low Valley
Celebrating 5 years of Experience Barnsley
Gem from Archives
1970s fashion in Barnsley
The Good and the Bad
Teenage kicks in the 1950s
A childhood around town 1950s
Girl Fridays 1974


Issue 5 - Spring 2008

Price: £2.50
Some of the articles in this issue...
WW2 Special: preparing for the war
Evacuees in Barnsley
Air Raid shelters in Barnsley
Missing in action - a Barnsley pilot
Visiting Hitler's Bavarian home
Changing face of Dodworth
Courthouse Railway Station
Barnsley from the Air 1952 - Doncaster Road
Remembering the Brampton Ellis School at Hemingfield
An unsolved murder case almost 50 years on
Sixty years of Scouting in Barnsley
Tips for healthy living from 1920
Use the Add to Cart button to add a copy of this issue to your shopping cart. You can find every issue on the
Back Issues
page.
When you're done, simply checkout and pay securely with PayPal. You don't even need a PayPal account!
Alternatively, you can order back issues by telephoning us on 01226 734704 (Monday to Thursday 9am to 5pm, Friday 9am to 4:30pm).
UK postage and packing costs £1.00 per back issue, or is free when you order four or more issues together. Click
here
for international postage rates.
Shopping Cart
Your shopping cart is empty