On Sale Now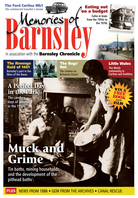 Some of the articles in
Issue 25 - Spring 2013
Little Wales
Muck and Grime
News from 1886
The Revenge Raid of 1461
Eating out on a budget
The Ford Cortina Mk1
The Bugs' Hut
Gem from the Archives
A perfect day in the park


Issue 2 - Summer 2007


Price: £2.50
Some of the articles in this issue...
Barnsley's FA Cup win 1912
100 years of motoring with the Eyre family
The Ritz cinema
Story of the WW2 bomber which crashed in Pogmoor in 1942
The Lundhill colliery disaster of 1857
A brief look at Barnsley's linen industry
Changing face of Royston
History of the miners' offices in Huddersfield Road
Memories of Barnsley character Alan Beck
Use the Add to Cart button to add a copy of this issue to your shopping cart. You can find every issue on the
Back Issues
page.
When you're done, simply checkout and pay securely with PayPal. You don't even need a PayPal account!
Alternatively, you can order back issues by telephoning us on 01226 734689 (Monday to Thursday 9am to 5pm, Friday 9am to 4:30pm).
UK postage and packing costs £1.00 per back issue, or is free when you order four or more issues together. Click
here
for international postage rates.
Shopping Cart
Your shopping cart is empty